Log cabin
Rent a log cabin at Camping de Koornmolen in South Holland!
Would you like to get away for a while? Would you like to enjoy nature for a while? Do you not have camping equipment yourself? Then a log cabin is perfect for you! There are 2 log cabins at Camping de Koornmolen in the Netherlands. The log cabins have a floor area of approximately 11 m² and have a veranda. A log cabin is also perfect for when you are in transit. In the log cabins on the Koornmolen you can enjoy a well-deserved holiday with 4 people. The children can swim in our indoor pool, climb and clamber in our playground, kick a ball on our football field, play a game of table tennis, dance with the animation team or jump on our brand new air trampoline!
Camping on the Koornmolen is great for real nature lovers. De Koornmolen is located right next to the Rottemeren nature reserve. The pleasure river Rotte flows through this nature reserve. De Rotte is the original namesake of metropolis Rotterdam. You can experience all kinds of things in this beautiful nature reserve. There will be beautiful cycling routes, challenging walking routes and renting a boat is also possible. In the summer months it is also possible to enter the Koornmolengat protected nature reserve with a guide. In a walk of more than two hours, the guide will tell you about this unique piece of nature and the beginning of the village of Zevenhuizen. Opposite the Koornmolen is the Olympic Willem Alexander rowing course. Major international competitions take place here from spring. And if you continue a bit further, you will arrive at Natuurspeeltuin de Hennipgaarde. Here children can romp around and get acquainted with nature in a playful way.
Everything about the log cabins at Camping de Koornmolen in South Holland
The log cabins at Camping de Koornmolen are equipped for 4 people. There are two bunk beds in a log cabin. Furthermore, the log cabins have the following: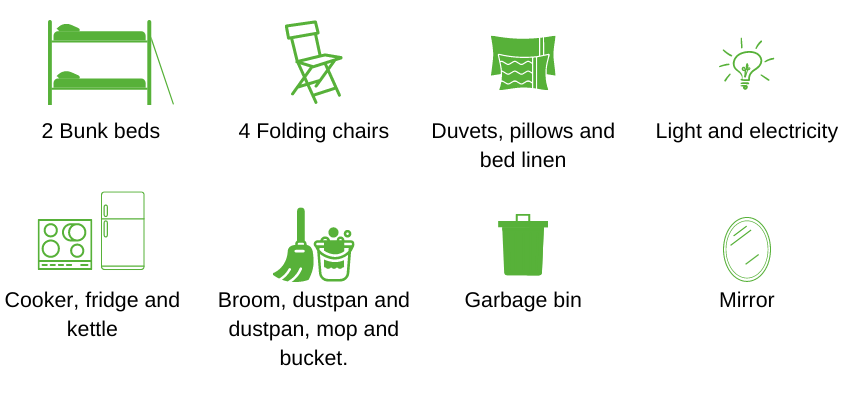 Prices and availability
For current prices and availability, go to our booking page.