Log cabins
Getting away for a while? Rent a hiker's hut at Camping de Koornmolen in South Holland, near Rotterdam!

The hiker's huts at Camping de Koornmolen in South Holland are equipped for 4 people. There are two bunk beds in a hiker's hut. Furthermore, the hiker's huts feature the following: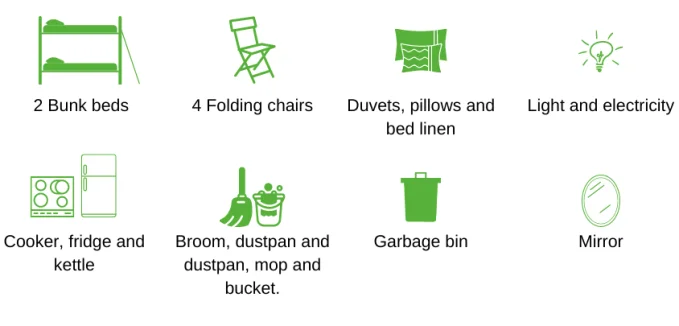 Enjoying nature
For true nature lovers, camping at the Koornmolen is absolutely wonderful. The Koornmolen is located right next to the Rottemeren nature reserve. Between this nature reserve flows the pleasure river the Rotte. The Rotte is the original namesake of metropolis Rotterdam. In this beautiful nature reserve you can experience many things. There are beautiful cycling routes, challenging hiking trails and you can also rent a boat. In the summer months it is also possible to go into the Koornmolengat nature reserve with a guide. In a walk of over two hours, the guide will tell you about this unique piece of nature as well as the beginning of the village of Zevenhuizen. Opposite the Koornmolen is the Olympic Willem Alexander rowing course. Starting in the spring, large, international competitions take place here. And if you walk a little further, you will come to Nature Playground the Hennipgaarde. Here children can romp around and playfully learn about nature.